Daily: full timetable to follow
Chat & Connect
Daily: Plan your day 8.30 - 8.45 (and 9.00 - 9.15 Monday 23 September), picnic lunches 12.00 - 13.00, facilitated networking varies by day
Chat & Connect space

With three types of dynamic activities – 'Plan your day' breakfasts, picnic lunches and facilitated networking sessions focused on the Spotlight theme of the day, this space is the perfect opportunity for delegates to meet like-minded peers from around the globe and participate in conversations with Spotlight speakers. More details on Spotlight will be available soon.

The Plan your day sessions will be especially useful for delegates attending Sibos for the first time, or for those with a one-day pass, providing an overview of the venue and the must attend sessions and activities for each day.
Wednesday 25 September: 17.00 – 19.30
Women of the World (WOW) Networking Event
Wednesday 25 September: 17.00 - 19.30
The Bridge Restaurant, ExCeL London
Our Women of the World Networking Event returns for its second year to explore the importance of female leadership in the financial industry and celebrate women who have inspired throughout history. Join us for informal networking drinks, and a chance to catch up with familiar faces and make new connections.
Attendees will hear from VIP speaker Sandi Toksvig OBE, a beloved broadcaster, writer and producer across British radio, TV and theatre. Sandi will discuss her experience forging a career as a leading female comedy figure in a male-dominated world. All Sibos delegates are welcome, and there's no need to register. The event is sponsored by Clearstream, EY, Microsoft and SWIFT - find out more here.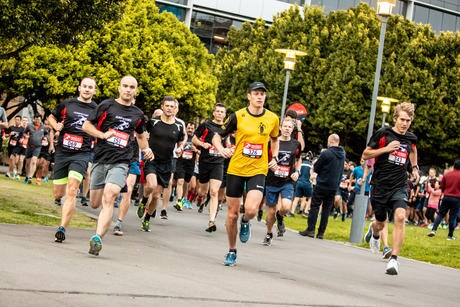 Wednesday 25 September: 6.00 – 7.00
5k Run – Sponsored by SIX
Wednesday 25 September: 6.00 – 7.00
The waterfront, ExCeL London
This year's Sibos 5k Run is sponsored by SIX, who are kindly donating €10 per registered runner to the Honeypot Children's Charity. The run is open to all delegates from the most competitive budding sports stars to those who prefer to walk the course and take in the views.

The run will take place on the waterfront by the Sibos venue ExCeL London. It's an excellent opportunity for like-minded racers to meet while ramping up their Sibos steps. Fully registered delegates can sign up by logging in on Sibos.com and completing the 5k registration form on the dashboard. 
Wednesday 25 September: 19.00 – 23.00
Innotribe Networking Event
Wednesday 25 September: 19.00 – 23.00
Giant Robot – Canary Wharf
The Innotribe Networking Event, sponsored by Deloitte, brings talented innovators and dynamic fintechs together with the broader Sibos community for an evening of networking with over 1,000 global entrepreneurs, investors and executives.
We will be inviting a selection of non-Sibos delegates, including members of the local fintech and financial communities, to mix with Sibos speakers, exhibitors and delegates. Much like the Innotribe conference programme, conversations will be inspired by the long term trends shaping finance, technology and our working lives.
Be prepared to be entertained, with local bands and immersive experiences; this is a party you don't want to miss. Register now!
Daily
Innotribe Curated Networking
Monday – Wednesday (23 September – 25 September) early evening and Thursday 26 September 12.00
Discover

Innotribe Curated Networking sessions will take place every evening and on Thursday afternoon, allowing topic experts and delegates to gather together in an informal setting to deep-dive into issues highlighted during the day on the Innotribe stage.
Daily: 10.00, 12.00 and 14.00
Talent Thursday – Sibos Escape Room
Thursday: 10.00 and 12.00
The Sibos escape room

Attendees can forge new connections while solving a challenge together in the Sibos Escape Room. This is an unforgettable way to collaborate and expand your network. The sessions last 60 minutes and it's bound to be popular - register for your place today.
Thursday 26 September: 5pm – 10.30pm
Sibos Closing Event
Thursday 26 September: 17.00 – 22.30
ExCeL London
The theme for this year's Closing Event is Best of British. We'll sample the very best in British food, drink and culture, and celebrate the highlights of Sibos in London. We promise networking and entertainment drawing on the UK's rich heritage of history, music, cuisine and popular culture as we say goodbye to the Sibos community in style.
Sign up to The Sibos Insider Newsletter to be the first to hear more about making the most of networking opportunities as this year's event.