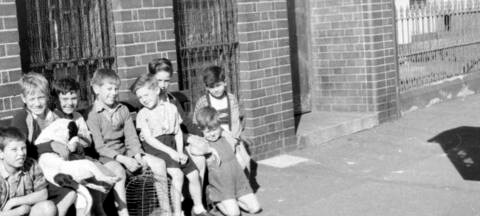 'Education is the key to the future'
Supporting the local community is an important part of Sibos.
The charity partner for Sibos 2018 Sydney is The Girls & Boys Brigade, which helps children and young people by providing education and a comprehensive programme of activities. Their centre in Surry Hills supports nearly 200 boys and girls, providing them with a safe and welcoming place away from the streets.
Sarah Ison, OAM (Medal of the Order of Australia), has worked for The Girls & Boys Brigade for 24 years and is the organisation's Executive Officer. Sarah took the time to provide further insight into the charity's history and future plans. 
Can you tell us about the history of The Girls & Boys Brigade?
[Sarah]: "Founded on principles of care and compassion and embedded in the inner city of Sydney, The Girls & Boys Brigade's rich and colourful history has evolved over 136 years. Without sacrificing our values in a changing community landscape, we are able to remain current and relevant as a vital support to disadvantaged children, youth and their families."
"Formed in 1882 to provide a refuge and place of safety off the streets for young boys selling newspapers or working in factories as cheap labour, The Boys' Brigade, as it was then known, had as its objectives the cultivation among children of reverence, industry, discipline and self-respect."
"Today 'home' is still our 1912 purpose built building, located in the heart of Surry Hills. We have nearly 200 enrolled children and youth and our attendances are over 6,500 each year. We are 100% children and youth focused in achieving our mission, which is to support school-aged children and youth in need by providing education, recreation and activities that build life skills as a foundation for a brighter future."
How do you work towards your goals?
"Our children and youth are living in families where there are risk factors, which create significant financial, education, social and housing disadvantage. Risk factors may include living in entrenched poverty, exposure to violence, alcoholism or substance abuse in the home, risk of abuse and neglect, and much more. All live with one, many with multiple. Risk factors have the potential for young people to disengage with their education, from family, from their community and make negative life choices."
"To mitigate these risk factors, our service delivery focuses on early intervention, prevention and life education through activities and practical support. Our range of children and youth programmes, which include homework help, youth recreation, vocational and life skills activities, camps, holiday programmes and more, aim to develop young people who are confident, capable and positive communicators that have a strong sense of self and belonging. We know it only takes one 'light bulb' moment to spark a young person's curiosity and enthusiasm for their future education and life pathway." 
"Our holistic crisis and long-term family support is vital in creating real change in a family by working with parents/carers in the areas of education, child and youth behaviour and development, housing, legal, finance and family relationships. This enables parents to develop their confidence and skills to be able to more capably manage their families, which in turn provides stability for their children and young people."
What are your plans for the future?
"The Girls & Boys Brigade is in an exciting time of change as we plan to 2023. Through our local research, we know that we are as relevant and vital in the community as ever and that Surry Hills will still be our 'home'."
"To ensure we continue to cater for the changing and complex needs of the community, the Board of Directors and staff have been undertaking a consultancy to look at what other value added services we can provide and how we can continue to have maximum positive impact in the community."
"Our hope is that we will continue to be an integral part of children, youth and family's lives and that they know that whatever else is going on in the community, the Brigade will be their stable, trusted and safe place to go."
What will Sibos bring to your organisation, and those who it supports?
"Our involvement in Sibos is significant to us and we are most appreciative that such an esteemed event is supporting on a local level young people's education and life skills development."
"The money raised will go directly to our daily programmes and have a tangible daily impact on the lives of children and youth. Education is the key to the future and the Sibos support will help open the door to the future for our young people."
What message do you have for delegates ahead of the event?
"The Girls & Boys Brigade hopes that the delegates are looking forward to their trip to Sydney and that they will enjoy all that our beautiful harbour city has to offer."
"We would also like them to know that their participation at Sibos will help achieve the donation goal, which is absolutely awesome for us!"
At Sibos, delegates can visit the SWIFT stand for a commemorative photo with a Sydney-themed backdrop. This will then be turned into a postcard that can be shared with family and friends, either digitally or in print.
SWIFT will donate 20 EUR to The Girls & Boys Brigade for each delegate who takes part in this activity.