Sibos charity drive raises €40,000 in support of the Anouk Foundation in Geneva
Red and white wooden cows of Switzerland generate significant support for local charity
PRESS RELEASE
Brussels, 19 October 2016 - Sibos donates €40,000 to the Anouk Foundation following an event-wide charity drive during SWIFT's annual financial services conference in Geneva.
The Anouk Foundation is a not for profit organisation that provides a soothing environment through art and music programmes for children and adults staying in hospitals, special needs institutions and nursing homes. Inspired by Anouk, a loving and determined little girl with special needs who brightens the lives of those around her, the Foundation fosters healing and well-being throughout Europe's medical facilities. Small teams of highly qualified artists trained in the Anouk methodology work with patients and healthcare staff to produce transformative therapeutic murals for use at medical facilities. 
To date, the organisation has carried out 130 projects in 14 countries across Europe, improving the lives of nearly a million patients.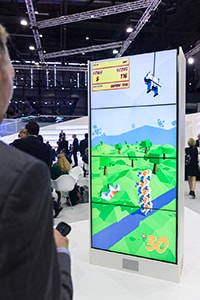 To support the Anouk Foundation, SWIFT invited Sibos delegates to participate in the Wii-based 'STACKED' game involving the famous red and white wooden cows commonly found across Switzerland.  At the SWIFT stand, Sibos delegates tested their skill and luck to stack as many cows as possible within a specified timeframe.  For each game played, SWIFT donated 30 EUR to the foundation. 
The Anouk Foundation is about brightening the lives of people in medical institutions," says Vanessa von Richter, Co-director at the Anouk Foundation. "SWIFT and the entire Sibos community have brightened our lives with this generous contribution. These funds will go a long way to helping many sick children and adults experience a more soothing environment while recovering from illness or managing their day to day." 
"The Anouk Foundation is making a difference to these peoples' quality of life by transforming their environment and improving their experience," says Sven Bossu, Head of Sibos. "Sibos has a long history of supporting local charities in each of our event locations and the Anouk Foundation is another fantastic organisation we are pleased to have helped."
About Sibos

Sibos is the world's premier financial services event. Sibos is an annual conference, exhibition and networking event organised by SWIFT for the global financial industry. In just one week, some 8,000 decision makers and topic experts from financial institutions, market infrastructures, multinational corporations, and technology partners gather in one place to do business and collectively shape the future of payments, securities, cash management and trade.
For more information about Sibos, please visit www.sibos.com or visit us on Twitter: @Sibos #Sibos or LinkedIn: Linkedin.com/company/Sibos
For further media queries, please contact:
JoAnn Healy

Sibos Press Office

T: +1 212 455 1802

Email: press@sibos.com