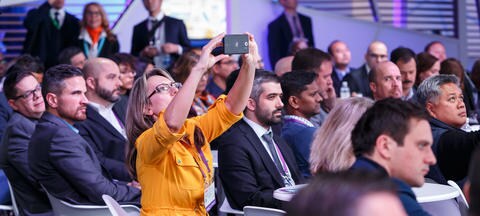 What's new for Sibos in Sydney?
It's more than 10 years since Sibos was last held in Sydney. Over that time, its three core elements – conference, exhibition and networking – have evolved in recognition of the changing needs and priorities of delegates.
One need only look at this year's conference agenda to recognise the ways in which technology and regulatory drivers have put themes such as financial crime compliance, cyber-security and fintech disruption firmly on the map.
But Sibos continues to change in many other ways too. The conference provides a much wider range of formats than a decade or so ago, for example the three breakfast keynotes held on Tuesday through Thursday. Not only do these sessions place the business of banking firmly within the context of wider society, but the format – quick, direct, incisive – reflects the tightly-packed diaries of most delegates during Sibos week. This no-nonsense, straight-to-the-point approach also informs the educational 'lunch and learn' sessions held at the Standards Forum and SWIFT Institute, as well as Innotribe's 'Sensemaker' events, also held every lunch time. For more in-depth insight and sharing of best practice, delegates can register for Tuesday and Wednesday's Sibos Roundtables, focused on how banks can adapt to changes in instant payments and trade finance.
Of course, the majority of the sessions and topics at Sibos 2018 will be familiar to regular delegates. But across its 200 hours of content, many will observe a wider range of speakers compared to previous years. Sibos has always been the place in which senior executives from leading banks share their perspectives about the next steps for the banking industry. But in this era of disruption and collaboration, our ecosystem is an increasingly broad and diverse one. From bigtech firms that already dominate their markets to fintechs that may bring forward the next big thing, Sibos in Sydney will provide a platform for all those shaping the future of banking.
Perhaps, the most notable change to the Sibos exhibition space for Sydney is the Discover Zone, designed specifically to highlight and further encourage collaborative innovation across the financial services sector. Sited around the Innotribe stage, the Discovery Zone's digital cityscape will host around 70 startups – the most ever at a Sibos – including more than 30 from Australia. Innovation labs from banks and universities will also be sharing the new space, demonstrating products under development and proofs of concept, often the result of collaboration with fintech firms.
For those keen to find out how SWIFT can support their strategy, the SWIFT Hub provides a single location for all our activities, from product demonstrations in the SWIFT Lab, to the insights and debate offered at the Knowledge Bar, the SWIFT Institute and the Standards Forum.
Sibos would not be Sibos without its unique networking opportunities: 50% of delegates cited networking as the single most important element in our 2017 feedback survey. As usual, we ensure informal opportunities abound across the conference centre, from lounges to pop-up spaces located around the exhibition to the five Pit Stop zones and the Sibos Restaurant for those that like to mix the business of networking with the pleasure of eating. Delegates can even enjoy the warmth of the Australian spring whilst remaining close to the Sibos buzz in the Sibos Garden.
We also hope to facilitate new connections through slightly more structured networking opportunities during Sibos week. These include Innotribe's 'curated networking' sessions from Monday to Wednesday afternoons, offering the chance to meet experts on trust, quantum computing and artificial intelligence, as well as the 'Women of the World' networking drink on Wednesday (all genders welcome!). 
As in our day-to-day business lives, technology plays an increasingly important role in networking at Sibos, with smart badges enabling delegates to exchange contact details by a single click. As one might expect, the Discover Zone goes one step further with the Connection Machine, which suggests potential meetings between banks and fintechs with similar areas of interest and expertise.
Sibos 2018's theme might be 'Enabling the digital economy', but in this case the digital economy is enabling Sibos!