Badge collection at hotel check in
If you book an official Sibos hotel, you have the option to pick up your badge when you check in. To receive your badge, you must have a paid registration and book your hotel via the registration site. Badges will be available for collection at hotel check in from late afternoon on Thursday 18 October.
If you do not make a hotel booking via the registration site, you will need to collect your badge from ICC Sydney.
ICC Sydney badge collection
To collect your badge from the venue you need to have a paid registration. We recommend you pay your registration fees as early as possible.
If you have not paid, please visit one of the 'New registrations' or 'Queries' desks when you arrive at ICC Sydney. If you have already paid, you can collect your badge from one of the 'Badge collection' desks when you get to ICC Sydney.
Important information - arriving at ICC Sydney
If you already have your badge when you arrive at ICC Sydney, you can use the Sibos Tumbalong Park entrance which is for badge holders only.
If you have to collect your badge, then you need to enter ICC Sydney via the non-badge holders Sibos Darling Harbour Entrance.
Please make sure that you bring your government-issued photo identification (driver's licence, passport, national identity card) with you to Sibos every day. If you do not have photo ID you will not be able to access ICC Sydney.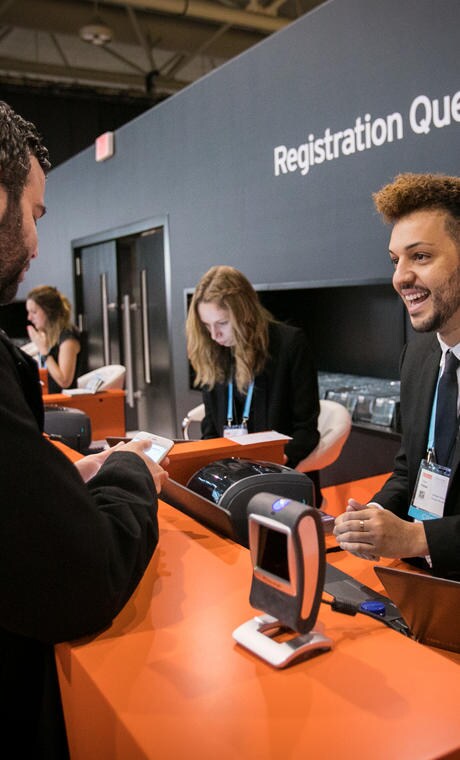 Introducing the Sibos smart badge
The Sibos smart badge is a badge fitted with a wearable tag that allows SWIFT to anonymously track your location and movements whilst at ICC Sydney.
This new technology will enhance security by tracking the number of people in each area at any given time.
It will also provide a smoother experience as you will no longer need to have your badge scanned each time you enter a conference room. You will just need to have the QR code on your badge scanned when entering the venue, and when engaging with exhibitors for lead retrieval purposes should you choose to do so.
The smart badges have been designed to capture aggregated demographic data that will be used by SWIFT to evaluate session attendance, exhibition traffic and the event in general, helping to inform improvements for next year's Sibos.
 
Powering networking
The Sibos smart badge is also a useful networking tool. Whilst at Sibos, you will now be able to exchange your contact details with another delegate just by clicking your badge. Simply hold your badges close to one another, click at the same time, and you will receive each other's contact details via email. 
These contact details, that you provided during registration, can only be used for one-to-one communications and will not be processed for direct marketing, lead retrieval or other commercial purposes by SWIFT. For these purposes, lead retrieval services need to be used.
This new technology is being trialled this year and, if successful, further services will be rolled out in future years.