Sibos Tools is an innovative and convenient way for you to manage your personal information and plan your way through registration, the exhibition, the conference and networking events whilst at Sibos 2019 London.

Sibos Tools is designed to ensure that you engage with fellow participants and make the most of your experience in London.

To use Sibos Tools on Sibos.com, you must first log in using your Sibos credentials. You will then see them on your dashboard. If you have forgotten your password, you can easily reset it.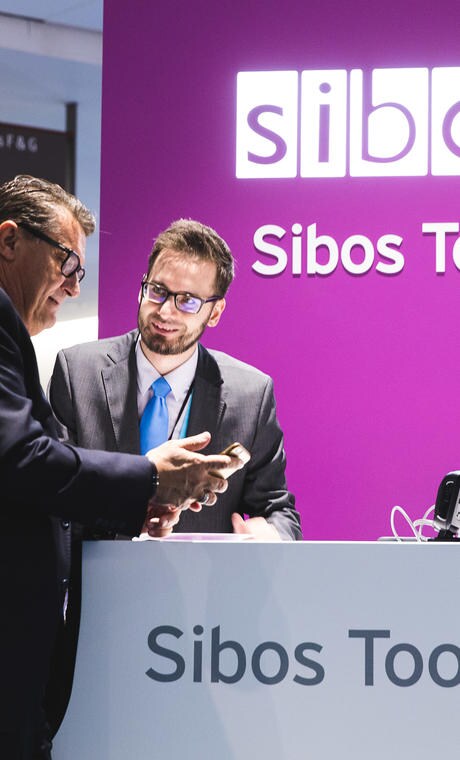 How to access the App
Sibos Tools is also a core feature of the official Sibos App, which is available for both Android and iOS devices.
The updated 2019 version of the Sibos App is free to download from either Google Play or the Apple Store.
Featuring an intuitive design with a simplified user interface and faster access to the information you need, the App provides Sibos news and updates at the touch of a button. It also includes a comprehensive floor plan of London ExCeL to help you get your bearings on site.
 
The main features of Sibos Tools
Your personal profile
Manage your profile (Sibos.com only)
Manage your privacy settings, Twitter handle and LinkedIn profile (App + Sibos.com)
Manage your registration and hotel booking (Sibos.com only)
Simply present your registration code on your phone instead of printing out emails (App only)
Networking
Participant directory - access the full delegate list (App + Sibos.com)
Sibos Instant Messenger (App + Sibos.com)
Share business cards with other delegates via your Smart badge (on site)
Add a participant to your personal contacts (App only)
Conference and exhibition
Build your own personal programme via My Favourites (App + Sibos.com)
Rate speakers and sessions! (App + Sibos.com)
Interact with Sli.do
Export your sessions to your own personal calendar (App + Sibos.com)
News and information
Programme
Access the full conference programme and filter by Streams
Watch sessions live or replay them via the App or Sibos.com when logged in
Access the Sibos TV schedule
Access the exhibitor programme, including Open Theatres and stand activities
Lists
Participant directory
Exhibitor list
Speaker list
Essential information
About Sibos
Travel
Hotels
Media opportunities