Sibos Insider
A preview of the 2018 conference programme
As this year's event draws closer, Sibos Insider brings you essential updates and previews, news from across the industry, interviews, videos and teasers.
Conference
A preview of the conference programme
A selection of sessions for the main conference programme, which forms just one segment of a busy agenda, is already available for delegates to preview. All sessions are built under the theme "Enabling the digital economy" and the four related subthemes.
The full conference programme will be available late June.
Find out more about this year's main conference sessions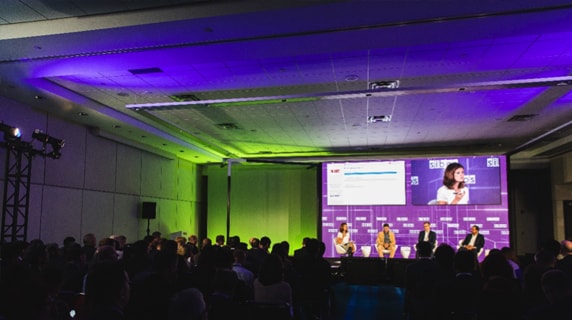 A platform for informed discussion
Commonwealth Bank's Albert Naffah has shared his thoughts on the Australian financial services sector and why Sibos is such a strong event.
Albert believes that Sibos 2018 Sydney provides a great opportunity to showcase the country's innovative spirit to the rest of the world. He is also anticipating high-level discussions about how to deliver great customer experience using emerging technologies, and how to integrate the instant payments networks springing up across the global financial community.
Exhibition
Who's exhibiting at Sibos 2018?
Sibos brings the world's leading financial institutions together to network, collaborate and make sense of changes in the industry.
Delegates will be able to meet around 200 financial institutions, application and middleware vendors, systems integrators, consultants and central clearing systems at ICC Sydney.
The Sibos exhibition offers unparalleled business opportunities and access to organisations from across the global financial ecosystem. All the biggest names, all in one place.
Visit Sibos.com to read their profiles and find out about products and services on show.
Take a look at the 2018 exhibitor list
Practical information
for Sibos 2018
Check visa requirements!
When planning your trip to Sibos 2018 Sydney, it's essential that you allow time to fully review and understand the visa requirements for entry to Australia. The visa requirements are set out by the Australian Government's Department of Home Affairs.
There are a number of visa options available to people wishing to visit Australia. The appropriate visa option will depend, amongst other things, on the person's purpose for visiting Australia.
ID policy for 2018
An early reminder that you will be required to show a government-issued photo ID upon arrival at ICC Sydney.
The official IDs that will be accepted are passport, driver's license or national identity card. You will be required to bring your photo ID each day to access the event.
Spotlight on Sydney
Make time for a long weekend in Sydney
Sydney's appeal runs much deeper than the city's famous tourist attractions and beautiful landscapes.
Photo courtesy of Destination NSW
If you can take some time either side of Sibos, you'll be able to explore Sydney's hidden gems, and perhaps the beautiful, World-Heritage listed Blue Mountains in New South Wales.
Business Events Sydney have used their local knowledge and expertise to help create the ultimate itinerary for visiting delegates, full of their top tips for the best experiences on offer.
Read the 'must-see' itinerary on Sibos.com