Sibos Insider
Enabling the digital economy
As the preparation ramps up for this year's event in Sydney, Sibos Insider brings you essential updates and previews, news from across the industry, interviews, videos and visual teasers.
Conference
Sibos 2018 – Enabling the digital economy
As the world's businesses and consumers migrate to the digital economy, banks and financial service providers are making their own transformational journeys, reappraising and reengineering their business models, service offerings and relationships with third parties.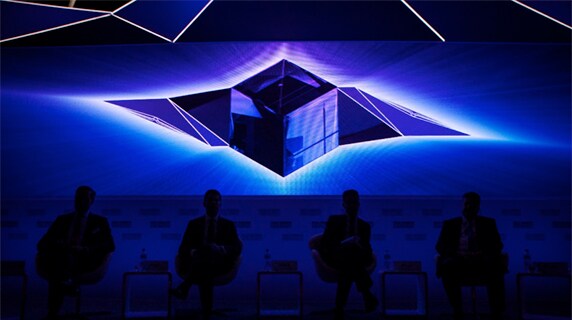 Under the banner of 'Enabling the digital economy', this year's conference agenda will be represented by four sub-themes that will run through the week across the whole Sibos 2018 conference:
How data, AI and robotics are driving service innovation and business model renewal
New paradigms and technologies for information sharing to tackle financial crime
Tackling the widening cybersecurity challenge in the digital economy
Adapting to evolving geopolitical and regulatory priorities
Leading Australian bankers look ahead to Sibos 2018
Two top bankers from Australia were invited on to the Sibos Today programme on the final day of Sibos 2017 to discuss their expectations for Sibos 2018 in Sydney.
Dr Leila Fourie, CEO, Australian Payments Network, and Gordon Sparrow, Head of Financial Institutions, Westpac, discussed the topics that will be high on the conference agenda at Sibos 2018. They talked about open banking, cybersecurity, digital identity, and how collaboration between banks and FinTechs can improve the customer experience.
Exhibition
Introducing this year's venue
Sibos 2018 will take place at ICC Sydney, Australia's premier convention and exhibition venue. Located in Darling Harbour, it features striking contemporary design, plenary options holding up to 8,000 people, and an open-air event deck.
ICC Sydney is just 8km from Sydney Airport and well connected by public transport. Sibos will take advantage of this ideal venue to facilitate collaborative innovation, stage a world-class exhibition, and – of course – support networking in spaces flooded with the beautiful Australian sunshine.
Watch the below video for a sneak preview of ICC Sydney.
Revisit Sibos 2017
Relive Satya Nadella's powerful closing address
Microsoft's CEO Satya Nadella ended Sibos 2017 Toronto on a high, talking to a packed plenary theatre about how technology is impacting every aspect of our society and economies.
He highlighted how the generational shift toward a digital future is gaining momentum. Click on the below image to watch the recording of the session.
Reflecting on Sibos 2017 Toronto
Following last year's Sibos, delegates and exhibitors were surveyed about their experience in Toronto, their areas of interest, and their reasons for attending the event.
These learnings help to shape the programme for Sibos 2018. Click on the below map to check out the 2017 survey infographics.
Practical information
for Sibos 2018
Registration opens early March on Sibos.com
Travelling impacts our environment, but Sibos delegates will be able to make a real difference. Last year, Sibos worked in partnership with WeForest and over 300 delegates participated in a reforestation project. This partnership will continue in 2018.
Look out for further information on Sibos.com once registration is open.