Sibos Insider
Highlights from
Sibos 2018 Sydney
Sibos Insider recaps the best of the action from Sibos 2018 Sydney, which saw more than 7,500 attendees gather at ICC Sydney to discuss the future of the industry.
Conference and Exhibition
Enabling the digital economy
As the world migrates to the digital economy, banks and financial service providers are undergoing transformational journeys, reappraising and reengineering their business models, products and services and relationships with third parties.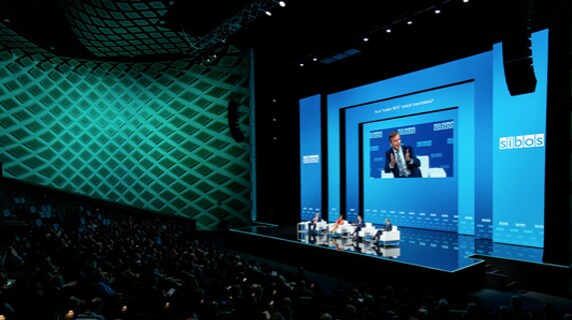 After four days of in-depth debate at ICC Sydney, several common threads emerged, including a changing payments landscape, the risks of more sophisticated cybercrime and innovation, data and the rapid rise of Asia Pacific.
An inspirational finish
The Sibos 2018 closing plenary was delivered by Australian cultural anthropologist, technologist and futurist Professor Genevieve Bell.
Professor Bell summed up the week's activity with a provocative view of the human experience of technology. She took delegates on a trip into the distant future with an eye-opening look at how AI will challenge our work lives, and our lives as consumers and human beings.
Innotribe wrap up
Thousands of delegates joined us for Innotribe Sibos 2018 Sydney in an amazing four days of content, looking at how technology would impact society in 2030 before taking a step back to understand how to secure this future state. Innotribe at Sibos was a resounding success. Next stop, London!
Relive the event with Sibos TV
You can now watch all of the Sibos TV programmes and interviews from a busy week at ICC Sydney. The Big Issue Debates and Breakfast Keynote sessions are also available to view.
Check out the videos on Sibos.com
Also, Sibos 2018 participants can log in to Sibos.com and then visit the conference programme section to watch a wider range of session replays from throughout the week. This feature will be available through to the end of the year.
Practical information
Sibos by numbers!
This year, over 7,500 people attended Sibos, with 166 exhibitors and 80 FinTechs showcasing their services and solutions. There were nine Chinese financial institutions at ICC Sydney, making it the largest representation from the country in the history of the event.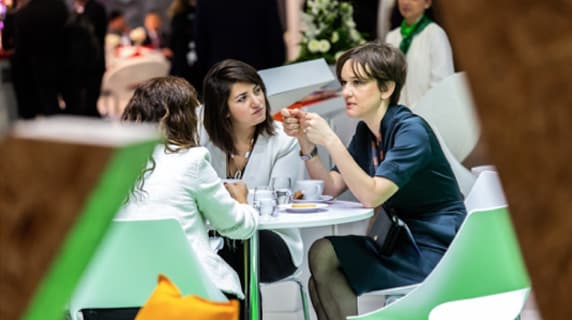 Learn more about the 2018 attendee demographics
Attendees also put the new Sibos smart badge to good use, exchanging more than 98,000 contacts over the course of Sibos week. Here are some other numbers that powered Sibos 2018.
More than 10,000 coffees and specialist teas were provided by Jimmy Monkey and the other on-site baristas each day
600 ice creams were consumed each day
1,800 lunches were served each day in the Sibos Restaurant
Close to 31,000 session attendances were recorded
Don't forget to give us your feedback
Your feedback is absolutely crucial as we seek to further enhance the Sibos experience each year.
A big thank you to all delegates and exhibitors who have so far filled in the survey they received via email following Sibos 2018. To those who haven't, there's still time to have your say, so please do check your inbox.
Networking
A host of new networking initiatives
There were additional high-level networking opportunities added to the conference programme this year. As well as the new Breakfast Keynotes, which featured author Parag Khanna, AI expert Dr Ayesha Khanna and cricketing legend Steve Waugh, there were a range of community roundtables and the Innotribe 'Curated Networking' sessions on trust, quantum computing and AI.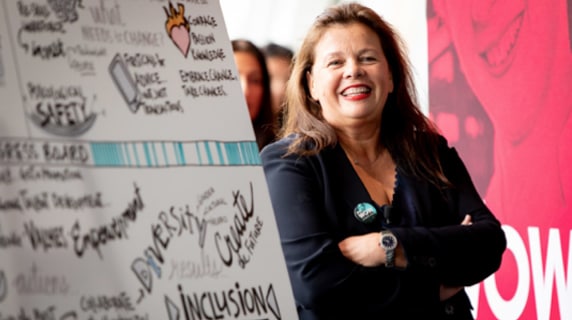 There was also a wealth of well-attended social events spread throughout the week. These included the Discover launch event, which was kicked off by former Australian rugby captain John Eales and included a live music set by Gabriella Cilmi, the Women of the World event, the Innotribe networking event and the Celebrate Sydney closing event, complete with fireworks.
An early start for 5K enthusiasts
Sponsored by Oracle, this year's Sibos 5K Run & Walk combined early-morning exercise with networking, giving more than 250 delegates the chance to step outside ICC Sydney and see more of the host city, with the course winding along Pyrmont's stunning waterfront and parkland.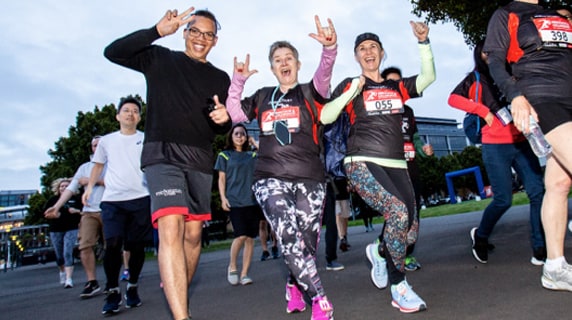 The spotlight shifts to London