Sibos Insider
Discover the future of banking at Sibos 2018
As this year's event draws closer, Sibos Insider brings you essential updates and previews, news from across the industry, interviews, videos and teasers.
Conference
The Sibos conference: An industry-wide effort
The theme for 2018 is "Enabling the digital economy", which reflects the far-reaching transformation of banks and other financial service providers as they adjust to the realities of a digital world.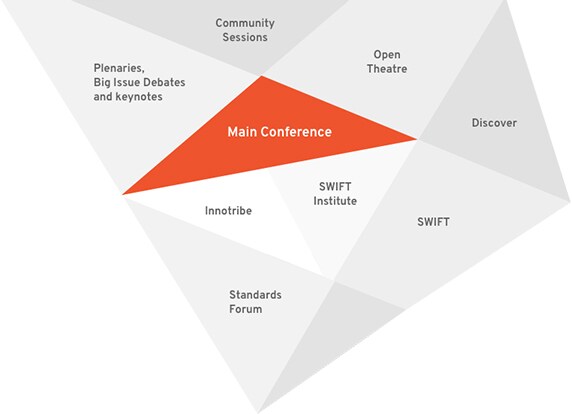 There is a preview of sessions for the main conference programme on Sibos.com. The full conference programme will be available at the end of June, along with details of speakers drawn from the industry and beyond.
Sibos brings together the world's leading financial institutions, technology partners, FinTechs and industry experts. This process starts well before Sibos week. Head of Sibos Chantal Van Es has written about collaborating with the financial services community to curate a programme that meets all needs.
A reminder that registration is open for Sibos 2018
Registration is open for Sibos 2018, which will take place at ICC Sydney in October. For further information about registration, accommodation and visas, check out the FAQs section on Sibos.com.
Exhibition
Discover the future of banking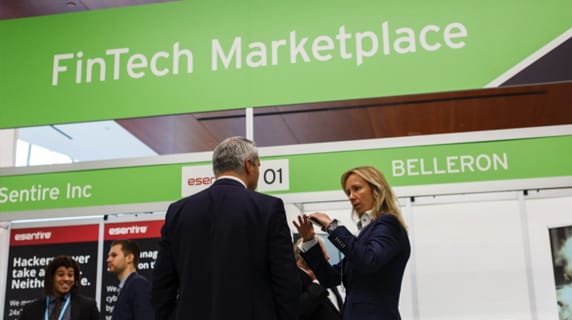 Following feedback from delegates, the Discover Zone at ICC Sydney will unite all innovation stakeholders in one distinct area. It will welcome the world's best FinTech companies and professionals active in payments, securities markets, RegTech and cybersecurity, providing delegates with a platform for collaborative innovation and new partnerships.
Read more about the Discover Zone on Sibos.com
The Discover Zone is comprised of a number of different elements for attendees to engage with. You will be able to:
Attend Innotribe sessions and networking events
Meet with the region's top FinTech start-ups in the Oceania Lounge
Network with global FinTech companies in the FinTech Marketplace
Hear presentations from FinTechs on the Discover Stage
Visit university pods to meet innovative thinkers from Australia's leading universities
Discuss solutions with a number of financial institutions, who will be showcasing their innovation labs and projects in the Discover Zone
Look out for further information about the programme for the Discover Zone in the coming months.
Practical information
for Sibos 2018
Learn more about ICC Sydney
Opened in December 2016, International Convention Centre (ICC) Sydney has quickly established itself as one of Asia Pacific's top business event venues.
If you attended Sibos in 1997 or 2006 at the Sydney Convention and Exhibition Centre, you will notice that the newly-developed ICC Sydney, and the surrounding Darling Harbour area, has undergone an amazing transformation.
In the below video, ICC Sydney's Business Development Manager Helen Mantellato highlights why it is the ideal host for Sibos. Helen also discusses how ICC Sydney is a leader in CSR and promotes culinary innovation.
Arrive in style with Qantas
Qantas has been chosen as the official airline partner for Sibos 2018. Australia's largest domestic and international airline, Qantas has an outstanding reputation for safety, operational reliability and world-class customer service.
Registered Sibos attendees can benefit from special discounted fares, easily booked online via the dedicated portal.
Spotlight on Sydney
Experience 'Evita' at Sydney Opera House
Opera Australia will be staging the popular musical 'Evita' at Sydney Opera House between 13 September and 2 November 2018.
Take advantage of your trip to Sibos to watch this classic and soak up the atmosphere of the iconic Sydney Opera House.
Get more information about tickets and dates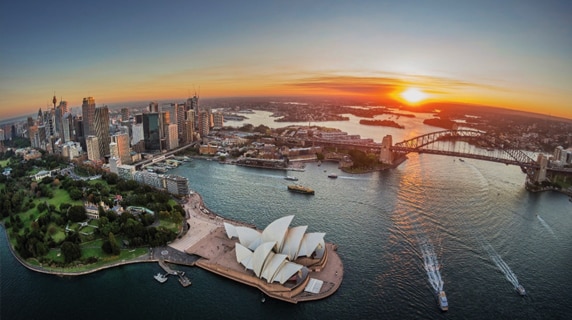 Photo courtesy of Destination NSW
Tackle BridgeClimb Sydney
Take the climb of your life to the top of the Sydney Harbour Bridge with BridgeClimb for an unforgettable Sydney experience.
Reaching 134 metres above the Harbour, the bridge is the pride of the city. Climbs are available at dawn, during the day, twilight or at night.